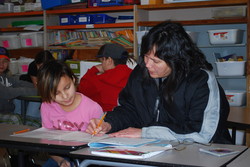 Paddle Prairie School participates in a division-wide Literacy Initiative to improve literacy practices and enhance reading, writing and comprehension skills for students. Click here to learn more. 
For more information contact:
Lorraine Ridsdale
Literacy Lead
Paddle Prairie School 
Literacy Resources
We are pleased to provide Literacy resources to students and parents! Click on the links below for more information! 
A Parents Guide to Reading At Home